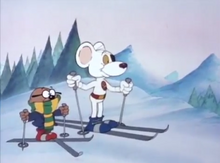 Duckula Meets Frankenstoat! is the third episode of the seventh season, first shown on 27 November 1986.
Dr. Frankenstoat has constructed a fiendish device to make electric Vampoids infused with Count Duckula's personality. Danger Mouse infiltrates his castle intend on destroying the machine, but Penfold pushes the start button, releasing a flock of bats.[1]
Ad blocker interference detected!
Wikia is a free-to-use site that makes money from advertising. We have a modified experience for viewers using ad blockers

Wikia is not accessible if you've made further modifications. Remove the custom ad blocker rule(s) and the page will load as expected.